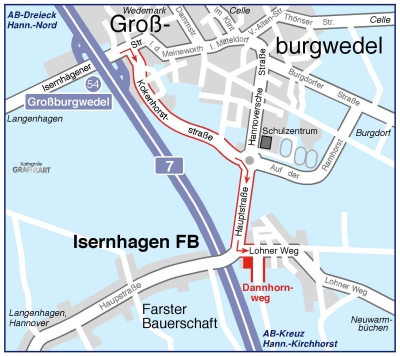 How to reach us…
By car
Our Showroom is not far from the exit Großburgwedel on the A7.
From the north turn left at the end of the exit ramp and from the south turn right.
Turn right onto the Kokenhorststrasse and follow the street until the roundabout. Take the first right out of the circle and follow the Hauptstrasse approximately 750 meters to the streetlight. Turn left onto Lohner Weg and after about 150 meters you will find us on the right (Dannhornweg 2).
By train
From Hannover Main Station take the Metronome RE2 / RE3 in direction Uelzen/Hamburg.
From Hamburg take the Metronome RE2/RE3 in direction Uelzen/Hannover/Göttingen.
Exit the train in Großburgwedel.
By plane
If you have a longer distance to travel, you can fly into the Hannover/Langenhagen Airport.
Simply provide us with your travel details and we will arrange to pick you up upon arrival at the train station or the airport.